Embark on a truly evolutionary adventure
Giant, hundred-year-old tortoises. Guided hikes through barren lava fields. Stargazing into both the Northern and Southern hemispheres. There's nothing quite like the raw beauty of the Galapagos Islands. And if you've been eager to explore again, this is your opportunity to sail aboard Celebrity Cruises' expedition yachts with every luxury imaginable.
Book through your Virtuoso travel advisor by August 31 and receive round-trip airfare and 50% off the second guest's cruise fare as you island-hop through the Galapagos, with land-based adventures in Quito, Machu Picchu, and beyond.
Soar and Save in the Galapagos
Book by August 31, 2020, to receive 50% off the second guest cruise fare
and round-trip airfare.

PLUS, ALL 10-NIGHT OR LONGER PACKAGES INCLUDE:
• Meet-and-greet services at the airport for all transfers and tours
• Luxurious hotel accommodations throughout
• VIP check-in and checkout at the hotel
• Multiple, fully escorted, exclusive tours in every location
• Meals and beverages while on tour and at the hotels
• Luggage service, including compliance with mandatory Galapagos agricultural inspection of bags at the hotel before departure and flight check-in with distribution of boarding passes at the hotel
• All tour-connecting air transportation
• Galapagos National Park entrance, Galapagos tourist card, and all other entrance fees
• Galapagos airport meet-and-greet service by a certified naturalist
• Transfers to and from the pier to board our tenders
• 7-night all-inclusive Galapagos cruise
• All shore excursions (two per day)
• All snorkeling equipment (including wet suits)
• Concierge service and tour escort
• All gratuities
• Wi-Fi
Featured sailings
ROUND-TRIP FROM QUITO
Galapagos / Ecuador Cruisetour
11 Days | Celebrity Flora℠ departures available Oct 2020 – Dec 2022

ITINERARY:
Quito • Baltra Island • Daphne Island • Gardner Bay • Punta Suarez • Cormorant Point • Bahia Post Office • Punta Moreno • Urvina Bay • Fernandina/Isabela • Vicente Roca Point • South Plaza • Cerro Dragón • Puerto Ayora • Baltra Island • Quito
Virtuoso Sky Suite with Veranda fares FROM $9,999 per person
For January 15, 2021 departure, does not include taxes and fees $120 per person
ROUND-TRIP FROM QUITO
Galapagos / Ecuador Cruisetour
11 Days | Celebrity Flora℠ departures available Oct 2020 – Dec 2022

ITINERARY:
Quito• Baltra Island • Daphne Island • Puerto Egas • Rabida Island • Elizabeth Bay • Caleta Tagus • Sullivan Bay • Bartolome Island • Santa Cruz • Isla North Seymour • Puerto Baquerizo Moreno • Punta Pitt • Puerto Ayora • Baltra Island • Quito
Virtuoso Sky Suite with Veranda fares FROM $9,999 per person
For January 22, 2021 departure, does not include taxes and fees $120 per person
QUITO TO LIMA
Galapagos / Machu Picchu Cruisetour
17 Days | Celebrity Flora℠ departures available Oct 2020 – Dec 2022

ITINERARY:
Quito, Ecuador • Baltra Island • Daphne Island • Puerto Egas • Rabida Island • Elizabeth Bay • Caleta Tagus • Sullivan Bay • Bartolome Island • Santa Cruz • Isla North Seymour • Puerto Baquerizo Moreno • Punta Pitt • Puerto Ayora • Baltra Island • Quito • Lima, Peru • Cuzco • Urubamba • Ollantaytambo • Aguas Calientes • Machu Picchu • Cuzco • Lima
Virtuoso Sky Suite with Veranda fares FROM $16,449 per person
For October 14, 2022 departure, does not include taxes and fees $120 per person
ROUND-TRIP FROM QUITO
Galapagos / Ecuador Cruisetour
12 Days | Celebrity Flora℠ departures available Oct 2020 – Dec 2022

ITINERARY:
Quito• Baltra Island • Daphne Island • Gardner Bay • Punta Suarez • Cormorant Point • Bahia Post Office • Punta Moreno • Urvina Bay • Fernandina/Isabela • Vicente Roca Point • South Plaza • Cerro Dragón • Puerto Ayora • Baltra Island • Quito
Virtuoso Sky Suite with Veranda fares FROM $10,099 per person
For January 1, 2021 departure, does not include taxes and fees $120 per person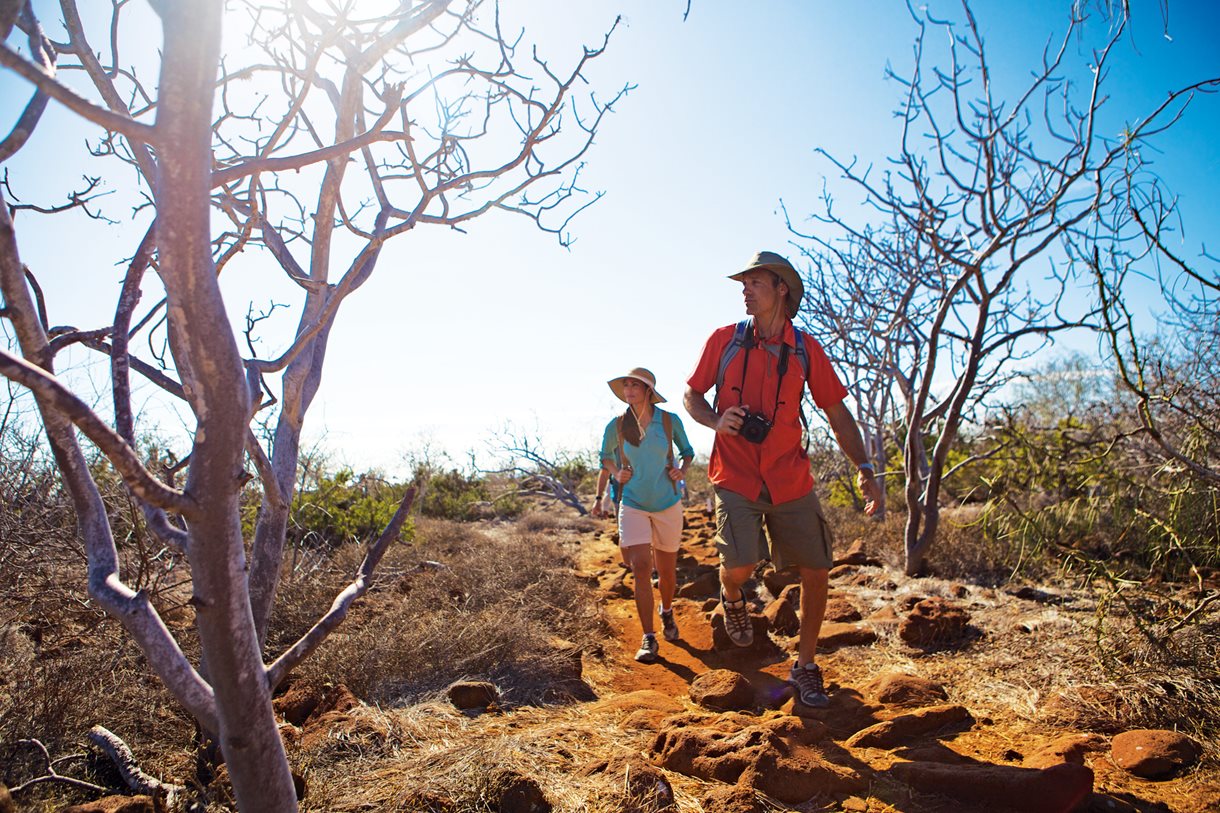 ROUND-TRIP FROM QUITO
Galapagos / Ecuador Cruisetour
11 Days | Celebrity Xpedition® departures available Oct 2020 – Dec 2022

ITINERARY:
Quito • Baltra Island • Isla North Seymour • South Plaza • Isla Santa Fé • Punta Pitt • Puerto Baquerizo Moreno • Bahia Post Office • Cormorant Point • Elizabeth Bay • Punta Moreno • Puerto Ayora • Gardner Bay • Punta Suarez • Baltra Island • Quito
Virtuoso Ocean View fares FROM $6,549 per person
For January 28, 2021 departure, does not include taxes and fees $120 per person
Highlights
ON BOARD
Feast on signature dishes and Ecuadorian-inspired specialties at the Seaside Restaurant on Celebrity Flora
Stay in a Penthouse Suite on the Celebrity Flora – the most luxurious in the Galapagos, complete with your own personal suite attendant
Watch the sunrise over the islands from Celebrity Xploration's Panorama Deck
Sleep under a sea of stars with every luxury imaginable during an onboard glamping experience on Celebrity Flora
Admire the unmatched scenery of the Galapagos from the floor-to-ceiling windows and private veranda in your Sky Suite on Celebrity Flora

ON SHORE
Catch a rare glimpse of all three species of boobies: Blue, Red, and Nazca on the volcanic terrain of Punta Pitt
Navigate the complex maze of saltwater inlets of Black Turtle Cove by Zodiac® as you search for sea turtles, egrets, and herons
Marvel at the extraordinary black lava rocks and colonies of marine iguanas in Fernandina, the youngest island in the Galapagos
Stand on the equatorial line at the Intiñan Solar Museum in the capital city of Quito
Discover the Lost City of the Incas during a post-cruise trip to Machu Picchu
Traveler Insight
We had a wonderful time! The ship was comfortable and well designed for the area and activities. The crew was friendly and very capable, and the naturalists that accompanied us on outings were experts on all things Galapagos. And the food was fabulous. -Harry A. (Virtuoso traveler)
Cruise must be booked between 07/01/20 and 08/31/20. Offer applies to select 7, 10, 11, and 16-night Galapagos cruise and cruise packages aboard Celebrity Flora, Celebrity Xpedition, and Celebrity Xploration departing between 9/19/20 and 12/25/22 ("Galapagos Cruise Package"). Offer includes half off a second guest cruise fare with the purchase of first guest cruise fare at full price; 10, 11 and 16 night Galapagos Cruise Packages, also receive economy or business class round trip air fare valued at up to $750 per person including air taxes and fees, departing from US or Canadian gateways, booked via Flights by Celebrity. 7-night cruise only itineraries are not eligible for the inclusive air offer. Air must be booked via Flights by Celebrity within 120 days of cruise booking or before final cruise payment is due, whichever occurs first. Offer is per person, for new individual bookings, subject to availability, may be withdrawn at any time without notice, subject to change without notice, capacity controlled, non-transferable, and not combinable with any other offer. Offer applies to round-trip air travel to/from U.S. and Canadian gateways. Cancellation of Air Tickets: Air tickets may be purchased on a non-refundable or refundable basis and are each subject to the cancellation terms of the applicable airlines and Flights by Celebrity. If a non-refundable air ticket is cancelled, the amount of the air ticket will be added to the reservation to be covered by the guest known as "Offer Credit Recapture". If air tickets are purchased on a refundable basis, the Offer Credit Recapture does not apply. Single occupancy guests paying 200% cruise fare are eligible for Offer and will qualify for air fare valued at $750 or $500 cruise fare savings. Offer open to residents of the United States or Canada. Refer to Cruise Ticket Contract for additional terms and conditions. Celebrity reserves the right to cancel the Offer at any time, correct any errors, inaccuracies or omissions, and change or update fares, fees and surcharges at any time without prior notice. ©2020 Celebrity Cruises Inc. Ships' registry: Malta and Ecuador.

All offers and products may not be available in all markets. All prices shown are per person, based on double occupancy, in U.S. dollars unless otherwise stated. Fares do not include taxes or other fees unless otherwise stated. Fares, schedules, Virtuoso exclusive amenities, experiences, and benefits are subject to availability, blackout dates, international currency fluctuations, and may change without notice. Virtuoso Voyages benefits are available to the first two guests per stateroom or suite. Virtuoso Voyages shore experiences require a minimum/maximum number of participants and may not be combinable with other offers. Space is limited and other restrictions may apply. See your Virtuoso travel advisor for more details and applicable restrictions. Virtuoso assumes no responsibility for the presentation confirmed within, including errors in pricing. The trademarks VIRTUOSO, the Globe Swirl Logo, SPECIALISTS IN THE ART OF TRAVEL, WANDERLIST, and ORCHESTRATE DREAMS are registered trademarks of Virtuoso, Ltd. Virtuoso, Ltd. has a U.S. copyright registration for the Globe Swirl Logo, ©2000. All rights reserved. California CST# 2069091; TA# 808 – Registered Iowa Travel Agency; Washington UBI # 601 554 183. Registration as a seller of travel does not constitute approval by the State of California. 420030 US/CAN 08/20